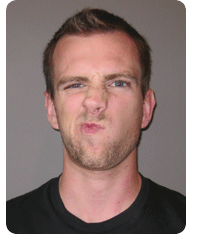 Brian Jubtankarious Cook was born in 1984 on the 8th day of March.  Raised by a family of circus performers he traveled the country until the age of 12.  His bout with the circus abruptly ended after a terrible accident during Benny the Bear's shark throwing act.
Some say that the loss of his right leg was what may have encouraged him to pursue an artistic career.  If this is the case then the loss of his appendage was well worth it as he has recently been hailed "The Most Influential Artist of His Time" by Thadious Gloadmere's Weekly Almanac of Truly Insignificant Achievements by Young Struggling Artists.
He currently lives in Portland, OR where he not only continues various artistic endeavors but is training for the International Cupcake Societies' Edible Architectural Triathlon in 2015.